Description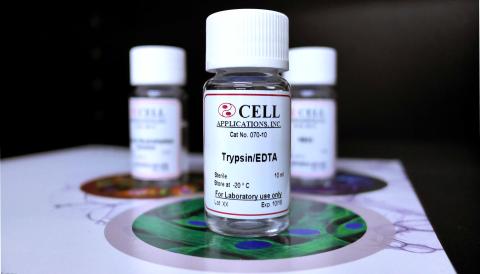 For optimal cell propagation, researchers depend on CAI Trypsin/EDTA, Trypsin Neutralization Solution, HBSS or all three together in convenient Subculture Reagent Kits.
Hank's Balanced Salt Solution is used to wash cells, Trypsin/EDTA removes adherent cells from the culture surface, and Trypsin Neutralization Solution halts the process.
Our Cell Lysis buffer breaks down cell membranes to yield lysate containing protein, DNA, RNA, and for further purification.
Products
| Product | Size | CAT.# | Price | Quantity |
| --- | --- | --- | --- | --- |
| Subculture Reagent Kit: 100 ml each of HBSS, Trypsin/EDTA & Trypsin Neutralizing Solution | Size: 1 Kit | CAT.#: 090K | Price: $63.00 | |
| Trypsin/EDTA Solution: For subculturing of adherent cells. | Size: 100 ml | CAT.#: 070-100 | Price: $23.00 | |
| Trypsin Neutralization Solution: Stops the trypsinization reaction. | Size: 100 ml | CAT.#: 080-100 | Price: $23.00 | |
| HBSS: 1X HBSS for washing of cells before Trypsin/EDTA treatment | Size: 100 ml | CAT.#: 062-100 | Price: $23.00 | |
Extended Family Products
| Product | Size | CAT.# | Price | Quantity |
| --- | --- | --- | --- | --- |
| Cyto-X Cell Counting Reagent: 500 tests | Size: 1 Bottle | CAT.#: 028-01 | Price: $160.00 | |
| Cyto-X Cell Counting Reagent Sample: 100 tests | Size: Sample | CAT.#: 028-S | Price: $41.00 | |
Publications
2017
2016
Zeimaran, E., S. Mohan, S. Pourshahrestani, B. Pingguan-Murphy, N. Kadri, M. Murali, H. Raghavendran, K. Hasikin, T. Kamarul and M. Towler. 2016. Osteogenic differentiation of mesenchymal stem cells on a poly (octanediol citrate)/bioglass composite scaffold in vitro. Materials & Design, 109:434-442.
2015
Pun, P., A. Logan, V. Darley-Usmar, B. Chacko, M. Johnson, G. Huang, S. Rogatti, T. Prime, C. Methner, T. Krieg, I. Fearnley, L. Larsen, D. Larsen, K. Menger, Y. Collins, A. James, G. Kumar, R. Hartley, R. Smith and M. Murphy. 2014. A mitochondria-targeted mass spectrometry probe to detect glyoxals: implications for diabetes. Free Rad Biol & Med, 67:437-450.
PLoS ONE, dx.doi.org/10.1371/journal.pone.0104389.
2012
Ohta, K. 2012. Method for producing pluripotent cell using bacterium having fermentation ability. Patent Aplication US 20140255942 A1.
Jin, M., A. Wu, S. Dorzhin, Q. Yue, Y. Ma and D. Liu. 2012. Culture conditions for bovine embryonic stem cell-like cells isolated from blastocysts after external fertilization. Cytotechnology, 64:379-389.  "Bovine Embryonic Fibroblast GM"??
Liu, D., Y. Lin, T. Kang, B. Huang, W. Xu, M. Garcia-Barrio, M. Olatinwo, R. Mattews, Y. Chen and W. Thompson. 2012. Mitochondrial Dysfunction and Adipogenic Reduction by Prohibitin Silencing in 3T3-L1 Cells. PLoS ONE, dx.doi.org/10.1371/journal.pone.0034315.
Villareal, M., J. Han, K. Ikuta, and H. Isoda. 2012. Mechanism of Mitf inhibition and morphological differentiation effects of hirsein A on B16 melanoma cells revealed by DNA microarray. J Dermatol Sci, 67:26-36. 
2011
Nguyen, L., S. Liao, S. Ramakrishna, and C. Chan. 2011. The role of nanofibrous structure in osteogenic differentiation of human mesenchymal stem cells with serial passage. Nanomedicine, 6:961-974.  
Yang, C.J., C.Y. Lin, T.-c. Hsieh, S.C. Olson, and J.M. Wu. 2011. Control of eotaxin-1 expression and release by resveratrol and its metabolites in culture human pulmonary artery endothelial cells. American journal of cardiovascular disease. 1:16.
Wakabayashi, M., Y. Ito, T. Hamazaki and H. Okochi. 2010. Efficient Myogenic Differentiation of Murine Dermal Sca-1 (−) Cells via Initial Aggregation Culture. Tiss Eng Pt A, 16:3251-3259.
2009
Ilagan, B.G., and B.G. Amsden. 2009. Surface modifications of photocrosslinked biodegradable elastomers and their influence on smooth muscle cell adhesion and proliferation. Acta Biomaterialia. 5:2429-2440.